Student Spotlights
Our students are making headlines, and we want to share all the great news with you. Please check in often and help us celebrate our students' many achievements.
Academic Honors Banquet 2022
We honored the top 20 seniors and the top 10 juniors, sophomores, and freshmen of JCHS at the annual Academic Honors Banquet Wednesday, April 20 at the Willow Lake Event Center. Please congratulate the students who received recognition, and view the academic honors banquet on YouTube.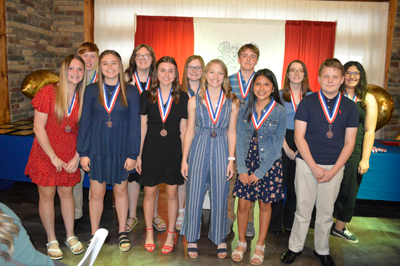 Grade 9:
Aliza Applegate
Emmerson Benson
Chrisanna Coleman
Lauryn Franks
Claire Hack
Mallory Manowitz
Brock Maschino
Natalia Ordonez
Edan Porter
Derek Ross
Jocelyn Valdovinos
Kaley Winget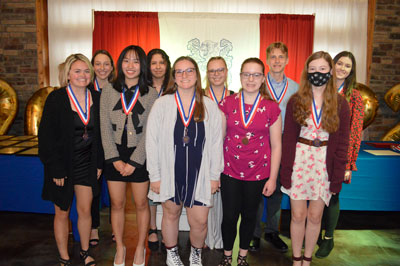 Grade 10:
Joline Chen
Trina Collins
Lily Eikelman
Lain Ernstes
Sarah Jaquess
Hailie Purdue
Marina Reynolds
Andrea Ritchie
Macie Voss
Brooklyn Wade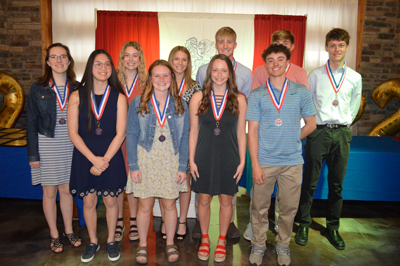 Grade 11:
Carlie Bingham
Mackenzie Heuer
Owen Law
Keegan Manowitz
Abigail McDonald
Stella Millspaugh
Anna Reynolds
Lydia Roth
Elijah Wahlman
Lane Zohrlaut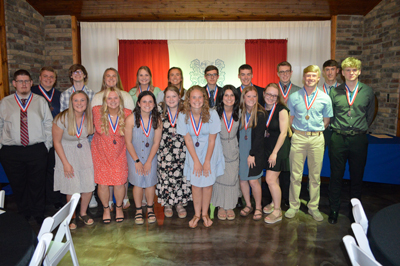 Grade 12:
Madison Ashcraft
Wyatt Brooks
Zachary Brooks
Reagan Brown
Ian Campbell
Rowan Cook
Lane Elsner
Lillian Ernstes
Kaylie Floyd
Emma Jones
Mogan Lane
Delaynee McCreary
Logan McIntosh
Mackenzie Newkirk
Nicholas Patterson
Caitlyn Schuck
Megan Schuler
Allison Stephens
Layne Suhre
Alexander Wilds
2022–2023 JCHS Class Officers & Sponsors
Senior Class (2023)
President: Evan Sochacki
Vice President: Susan Davis
Secretary: Carlie Bingham
Treasurer: Noah McFall
Class Sponsors: Ben Jaquess & Tevin Shoultz
Junior Class (2024)
President: Joline Chen
Vice President: Ava Galliher
Secretary: Mackenzie Wells
Treasurer: Rachel Manning
Class Sponsors: Ashley Sedam, Justin Smith & Adrian Kirchner
Sophomore Class (2025)
President: Eli Simmons
Vice President: Hannah Webster
Secretary: Chrisanna Coleman
Treasurer: Madelyn McIntosh
Class Sponsors: Derek Stewart & Allie Stewart
Freshmen Class (2026)
President: Brady Sentz
Vice President: Kamberie Maschino
Secretary: Parker Bales
Treasurer: Kate Treadway
Student Council Sponsors: Brad Morris, Derek Stewart, Allie Stewart, and Sara Judd
Student Council sponsored activities
Quarter 1 Football Homecoming
Quarter 2 Giving Tree
Quarter 3 Winter Homecoming
Quarter 4 Teacher Appreciation Week/8th Grade Tours
Senior Award Night
We pleased to announce the JCHS Senior Award Night program and the Jennings County Community Foundation Senior Awards program on May 5, 2021. Please see the programs below for more information. Congratulations to all of our seniors!
Jennings County High School Academic Honors Ceremony
The Jennings County High School academic honors ceremony took place on Wednesday, April 21. The top 10 underclassmen and the top 20 seniors were recognized. Congratulations to all!